BOOKS on CUPRESSUS
---
2010.
Kyle Merriam and Erin Rentz
Restoring fire to endemic cypress populations in northern California
This project was funded by the Joint Fire Science Program, JFSP project ID number: 06-2-1-17, 2010, 59 pages, colour photographs, maps, bibliography
PDF document

---
2007.
Bernabé Moya y José Moya (creation & direction), & Gianni Della Rocca, Alberto Panconesi, Paolo Raddi, Roberto Danti
CIPRESES MONUMENTALES PATRIMONIO DEL MEDITERRANEO
Proyecto MedCypre, Valencia, Spain, July 2007, 414 pages, colour photographs, bibliography, index
ISBN 978-84-611-8155-6

---
2007.
Alberto Panconesi & al.
IL CIPRESSO dalla leggenda al futuro
Istituo per la Protezione delle Piante - CNR, Florence, Italy, June 2007, 455 pages, colour photographs, maps, tables, figures, bibliography
ISBN 978-88-88228-20-4

---
2006.
Mario Chiapparini (text) & Mauro Pezzotta (photos)
I CIPRESSI MILLENARI DEL SAHARA
IPP - CNR; Programme Interreg IIIB Medocc, Tormini - Roè Volcanio, Italy, November 2006, colour photographs, bibliography

---
2005.
Aljos Farjon
A MONOGRAPH OF CUPRESSACEAE AND SCIADOPITYS
RBG Kew, England, 2005, 643 pages, black & white photographs, maps, tables, drawings, bibliography, index
ISBN 978-88-88228-20-4

---
1999.
Eric Teissier du Cros & all, Editors
CYPRESS, A Practical Handbook
Studio Leonardo, Florence, Italy, March 1999, 139 pages, colour photographs, maps, glossary, tables, index
ISBN 88-87585-01-6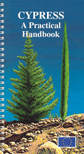 ---
1980.
Hames, R.
Le cyprès
Station de Recherches Forestières d'Avignon (INRA), imp. Limoges, France.

---
1979.
Grasso, V. & P. Raddi, Editors
Seminario: Il cipresso, malattie e difesa
Comunità eoconomica europea, Direzione generale dell'agricoltura; AGRIMED, sottogruppo fitopatologia mediterranea, Firenze, Italy, 23-24 Novembre 1979, 255 pages, colour photographs, maps

---
1948.
Wolf C.B.
The NEW WORLD CYPRESSES
El Alison, A Series of Papers on the NATIVE PLANTS OF CALIFORNIA, Volume I., Rancho Santa Ana Botanic Garden, Anaheim, California, USA, 1948, 444 pages, black & white photographs, tables, index


---
1923.
W. L. Jepson
THE TREES OF CALIFORNIA
Sather Gate Bookshop, Berkeley, California, USA, 1923, 2nd edition, illustrated with 124 original drawings
Pages 75-79; pages 199-201.

---
1914.
A. Camus
LES CYPRÈS (Genre Cupressus)
Monographie - Systématique - Biologie - Culture - Principaux Usages
Encylopédie économique de Sylviculture. II., Paul Lechevalier, Paris, 1914, 106 pages, black & white photographs, 424 figures, 4 maps, bibliography, index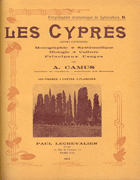 ---
1908.
George B. Sudworth
Forest Trees of the Pacific Slope
U.S. Department of Agriculture, Forest Service. USA, Washington, 1908.


Pages 158-167 on Cupressus.
---
Stephen Brailsford
The CYPRESS GROWER HANDBOOK, Options for Growing Quality Timber
36 pages, colour and black & white photographs, maps, tables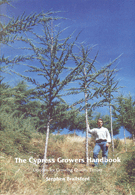 ---